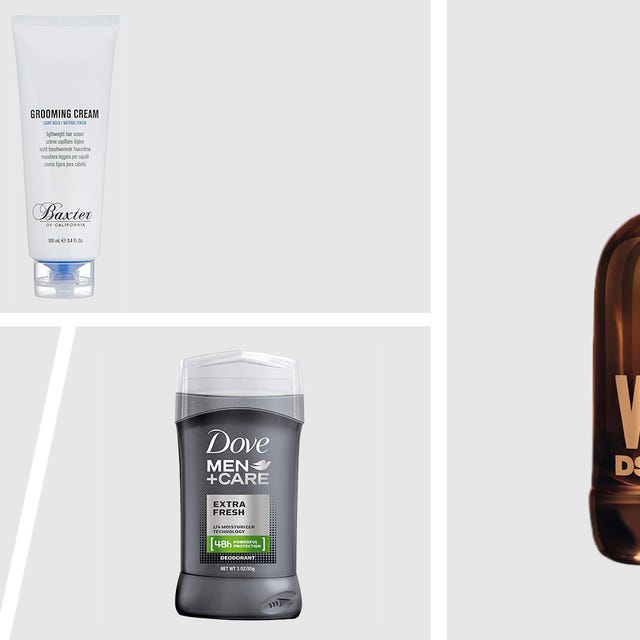 Hitting the gym in the middle of the work day is underrated, and not just because it lets you avoid the morning and evening crowds. It's a productive way to kill downtime, more fun than a sad desk lunch, and the perfect pick-me-up to get you ready to tackle the remaining hours at your desk. All in all, a great excuse to get out of the office.
Except that getting into a crowded elevator with your coworkers without cleaning up adequately after an intense run or lift could be considered an HR violation. And fitting a quality workout and full shower routine into a tight lunch hour can be tough. With these six products, all you need is some room in your gym bag and a few minutes after you exercise to return to your desk looking, feeling, and, most importantly, smelling your best.
Advertisement – Continue Reading Below
1
DSQUARED² Wood Pour Homme
Before you get back to the office, spritz on something that smells way better than sweat. DSQUARED² Wood for Him mixes bergamot, lemon, and orange top notes with a woody base for a masculine scent that isn't too much for the middle of the day.
2
Dove Men+Care Deodorant
No post-workout routine is complete without re-upping on deodorant. This one is made from a new formula that combats irritation and provides 48-hour odor protection. The Extra Fresh scent is reinvigorating and refreshing, and will leave behind a cooling, super-clean feeling.
3
Goodwipes Body Wipes
If showering isn't an option, body wipes are a lifesaver. These, which include tea tree oil and cooling peppermint, do an excellent job at wiping away dirt, sweat, and odor. Toss a few in your gym bag and you're all set.
4
Jack Black Industrial Strength Hand Healer
All the friction from lifting weights can turn your hands into a chapped, calloused mess. Jack Black's Hand Healer is the perfect cream to moisturize your "gym hands" and leave them soft and smooth for the rest of the day. Perfect for meeting new clients and excessively gesturing during meetings.
5
Oars + Alps Power Cleansing Face Stick
If you're skipping the shower, you can still get a deep face wash after a workout with this cleansing stick. Just unscrew the lid, apply it all over, and with wet fingers, massage it in to activate the cleanser. It removes dead skin cells and acne-causing sweat and bacteria from your intense workouts in a flash.
6
Baxter of California Grooming Cream, Hair Styler for Men
Return to work sporting the same polished hairstyle you arrived with by applying this lightweight, versatile hair cream. Just rub it into damp hair for a light hold and a shine-free finish. From there, style it however you'd like.
Advertisement – Continue Reading Below